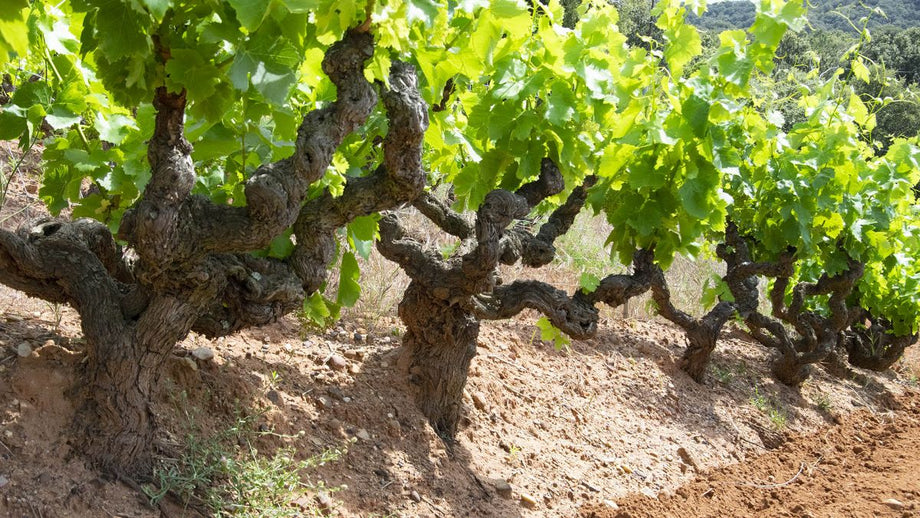 There's a theory that you can taste garlic with your feet!? I haven't tried but I know this: When Javier Arizcuren took us to the Rioja vineyard of Barranco del Prado, just standing in the soil among those vines, I could feel the energy emanating up from it.

Up until that moment, I wasn't quite sure what holy ground meant. This vineyard of mostly Garnacha was planted in the 1890's at the
highest elevation allowed in Rioja. Eighty-five percent of those withered, gnarly, ancient vines have their original, un-grafted, pre-phylloxera rootstock. Even in its dormant-December state (shown here), I could feel their spiritual life-force.

With expectations this high, tasting the wine could only bring disappointment, right? Wrong! 2018 Rioja Barranco del Prado, just 2 vintages old, has to be counted among the elite wines produced in Spain and also from this variety...and here I'm including French Grenache.

This is no Châteauneuf-du-Pape wannabe. Rioja Garnacha is a distinct expression of this grape. I find Barranco delicate and rather feminine in style. The great Château Rayas, a rare 100% Grenache CdP, is often referred to as Burgundian because of similar traits. Barranco actually reminded me more of classified Bordeaux - not for its flavors but for its sophistication, whereas CdP can lean more rustic.

Like most great, young wines, it needs years to round into shape and reveal all its glories. To quote Javier,
"With time this can be ethereal." For those of you who say to me, "tell me when you offer something extra-special," this is definitely one of those times. The stars align here: extraordinary terroir, a maniacally detailed, yet non-interventionist winemaker and a of a meager production of 700 bottles.

I feel very fortunate to have walked this vineyard, tasted the wine and have some in my cellar. I can't
promise you an epiphany but I can promise you a magnificent and exceptional wine that you will be one of the first Americans to discover and own.