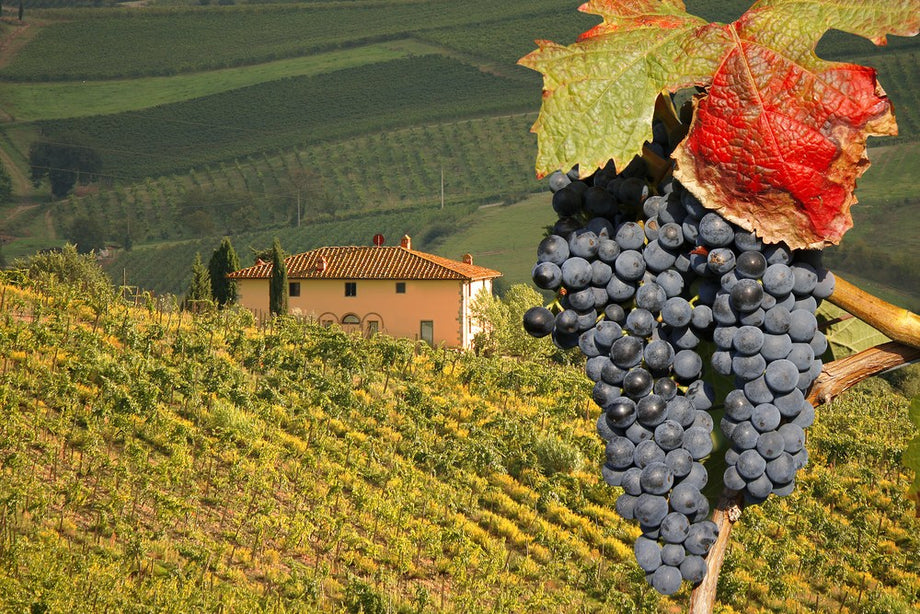 As previously noted, we are very excited about VDLT's impending introduction of Italian wines.  We thought it might be helpful to provide some context for the grapes and regions we will be offering.  Let's start with Tuscany…
 
My first trip to Italy was almost thirty years ago. I wasn't prepared to have anything interfere with my love of all things French, but the land, the people and the cucina of Italy captivated me.  

Most of that trip was in Tuscany. I participated in my first harvest (in a cold rain), picking Sangiovese. We ate and drank fabulously and to such excess that we sat up playing cards each night while hoping to recover.
 
On our way to dinner one evening, we were hopelessly lost (this was pre-internet and smart phones). We stopped at a repair shop in a small town to ask directions. The owner, who spoke no English, closed the shop and led us on the 20+ minute drive to the restaurant. Such gracious people!  That night, we enjoyed a spectacular 1985 Percarlo from Sangiovese served with the most pomp & circumstance I have ever witnessed.

Sangiovese is a truly noble grape It is the most planted variety in all of Italy, spanning many regions of Central Tuscany (where it is thought to have originated). It is a late-ripening grape that, like Pinot Noir, can vary significantly depending on where it is planted.  It produces wines with marked acidity so controlling yields is critical. Sangiovese wines are medium bodied, dry, tannic and capable of aging long and beautifully when done right.

In Tuscany, the three most admired Denominzione di Origine Controllata e Garantita (DOCG) wines are Brunello di
Montalcino (made from 100% Sangiovese), Vino Nobile di Montepulciano and Chianti Classico (both typically blends predominantly Sangiovese. Brunello and Vino Nobile are produced from a Sangiovese clone called Prugnolo Gentile or Sangiovese Grosso.

VDLT will start with one estate in Chianti Classico and one in Montepulciano. Brunello, is the most expensive and we have yet to find an unrepresented and distinctive estate. 

Chianti, in its many communal forms, is the biggest and best known Sangiovese sub-region. The wines tend to be lighter than the others (definitely a relative term) and more aromatic. There are oceans of mass produced, mediocre-at-best wines so knowing the producer is critical.  And boy do we know one!  Caparsa is a very traditional and terroir-driven estate. Paolo Cianferoni and his family release their wines considerably later than the dictated standard.  We will be offering a Chianti Classico Riserva Caparsino from 2011 that is 100% Sangiovese and 100% magnificent. This is Chianti on a whole different level.

Riserva means the wine is required to age in barrel longer and usually the grapes are from an estate's best and/or oldest vineyards.

Vino Nobile is the least known of the big three. It has struggled to form an identity because Montepulciano is also the name of a wine and grape variety in Abruzzo that despite some excellent production is mainly recognized for simple, quaffable wines.  Vino Nobile can generally be described as a mix of the power of Brunello and the finesse of Chianti. They are vastly underrated and in the right hands can be world-class.  The hands we are entrusting are those of Vittorio Innocenti. His wines speak to the palate, head and heart.
One of the first wines we will offer from Vittorio is the 2012 Vino Nobile di Montepulciano (he too ages his wines longer) from 100% Sangiovese.  It is a marvel of purity and precision.
Well made Sangiovese wines are splendid complements to a wide range of meals and they are wonderful representations of the beautiful land and people of Tuscany. All of VDLT's impending Italian offerings, as well as a new anticipated batch from Burgundy are on our wine menu for sneak preview.
Communal tables at the wonderful Osteria Acquacheta in Montepulciano means you always make new friends.