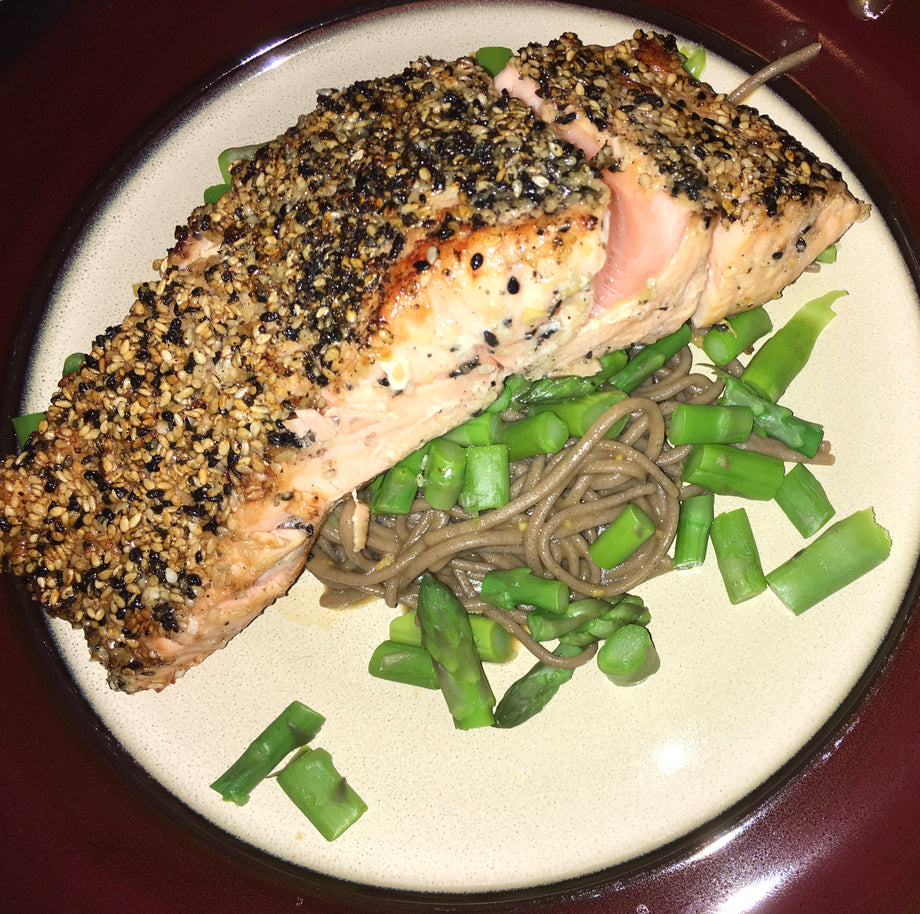 This weekend was one of the first in a while that we were free of plans, so I had a chance to do some cooking. 


First up was a grilled rack of Australian lamb chops cut into 2-bone portions and simply seasoned with garlic, rosemary, olive oil and S&P. I did a reverse sear - cooked on the cool side of the grill until 100° internal then finished directly over hardwood charcoal. Faro and some green peas rounded out the meal.


The next night was sesame-crusted salmon glazed with soy, ginger and lemon juice. The soba noodles were similarly sauced plus sesame oil. The asparagus added crunch.

I was pleased with both. Since there were no leftovers, I guess everyone else was too.

What about wine? The chops are pretty easy. Almost any red wine (I could even think of some whites) can effortlessly pair with them. They are rich and fatty but less gamey than the leg. I went with a 15-year old Vacqueyras -a Southern Rhône blend featuring Grenache. This wine was in the VDLT lineup years ago and may find its way back one day. The wine maintains some fruit and tannins but has enough mature notes to play off the mildly funky lamb.
The salmon was more challenging. Soy and asparagus can be tough on wine and the Asian accents can muddle pairings. 

Pinot Noir and Chardonnay are good choices for more straightforward salmon dishes and both came to mind. But I was concerned about tannins, alcohol and oak. So, I started thinking Gamay. Ultimately, I chose a Saint-Pourçain Roche Grises from Domaine de Bellevue - a Pinot/Gamay blend. The wine was terrific and handled the umami flavors well but with this dish, I was looking for more body to deal with the richness of the fish and the silky soba.

Sometimes wine and food pairings click and sometimes not. Don't worry. Just enjoy, experiment with combinations and taste new wines to expand your choices and reference points. Fortunately, the VDLT portfolio offers a wide range of food-friendly options.

Cheers,

Greg