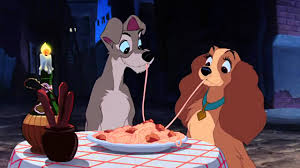 Chianti: Maybe the world's most iconic wine
This famous scene from the Disney classic shows a wine bottle candle.  None of us need to see the label to know it is Chianti because of the wicker cover known as a fiasco.  Decades later, Hannibal Lechter recounts his enjoyment of a questionable protein source with some fava beans and a nice Chianti.
The land of Sangiovese
Indeed, much of the rolling hills of Tuscany are covered in Sangiovese vines.  They also produce the world class wines of Brunello di Montalcino, Carmignano, Vino Nobile di Montepulciano, Chianti (most notably Classico and Rufina) and Super Tuscans (or IGT).  The latter are declassified either because they are 100% Sangiovese (all but Brunello require blending in other grapes) or because they include non-indigenous grapes like Cabernet or Merlot.
Brunello is well known to many.  The production of Carmignano is quite small.  Vino Nobile has struggled to overcome a perception problem as the village name, Montepulciano, is the same as a grape from Abruzzo - that historically produced oceans of cheap wine.  But Vino Nobile is a distinguished wine (even the more generic Rosso can be lovely too) that can combine the power of Brunello with the aromatics of chanti.
Tuscany produces white wines, mostly from Trebbiano and a sweet wine called Vin Santo, which takes time and lots of work to make but can profound.
La Chiusa - Our home base
We look forward to returning to see our friends at La Chiusa in Montefollonico.  The charm
ing rustic location and amazing views are so restful.  Dania is a world famous chef and a pioneering leader in advancing the role of women in kitchens.  Umberto is a warm and gracious host and Luigi s so happily attends to all of our needs.  They all have helped us discover excellent wine estates.  The grape cluster Umberto is holding in this photo is from a 150-year old vine on their patio. It's not producing wine but the grapes are intensely delicious and it's really cool!
The wine and food are great in this region but so is visiting all the small towns.  Each seems to have an interesting historical context or fascinating sights.
Remember to follow along on VDLT's Instagram, Facebook and Twitter feeds.