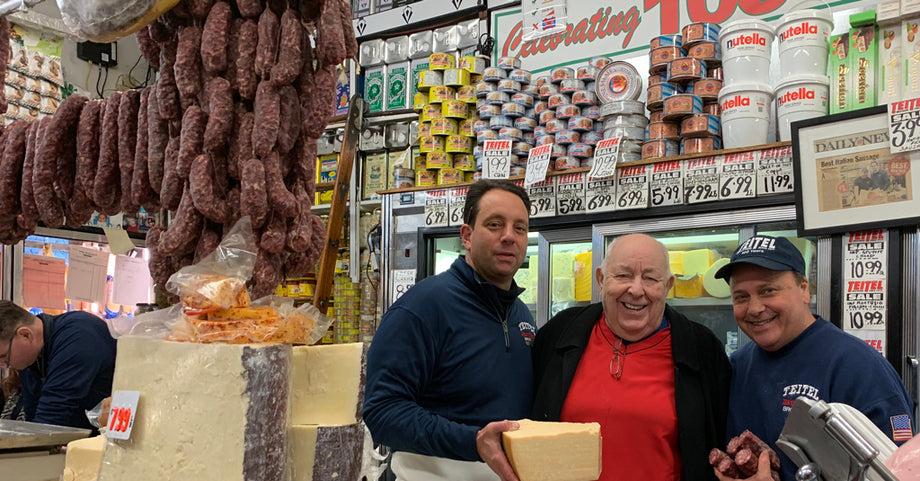 As a young lad, Chief enjoyed (on non-golfable weekends) shopping with Curly (his bald father) for the ethnic delights offered on Jerome Avenue in the Bronx. Today, he loves taking his family and friends to Arthur Avenue (the little Italy of the Bronx) to also shop for ethnic delights. Posted above are Michael and Eddie, two of the Teitel brothers. Teitel Brothers was founded over 100 years ago by two Jewish immigrants from Austria. "God Bless America." This store is in a class by itself, offering the very, very best of Italian imports at the lowest retail and wholesale prices. Think fresh sausage, dry sausage, fabulous cheeses, olives, olive oil, etc., etc. Like VDLT, great care is taken in the selection of products.
Like the wines we hunt, there are hundreds – no thousands – of one-of-a-kind purveyors and restaurants scattered across America. Working together, members can build a library of gems. Not good, but great. Not Zagat or Yelp. Places worth a special journey. One doesn't go to Chagny, France for any possible reason except to eat at Maison Lameloise. Traverse City, Michigan is a great wine and food community. Chief only knows this through conversation with David DeWitt.
Consequently, we will have to twist his arm and get the one or two "musts" in Traverse City. Greg and the Chief really believe in this project and intend to figure out the best way to present this on our web site. And yes, to get the ball rolling, we shall reward contributors with some VDLT grape juice.
Those of you who more than occasionally peak at the Dow Jones averages, today (Dec 17th) it lost another 500 points. Chief is far from panicking. In fact, he's ordered a wonderful steak for dinner. However, he plans on having a super bargain-priced homerun wine with his steak. For those of you who haven't enjoyed Domaine de Bellevue Saint-Pourçain Vieilles Vignes 2016 and want to feel like the Dow was up 500 today, we urge you to taste it without emptying your wallet.