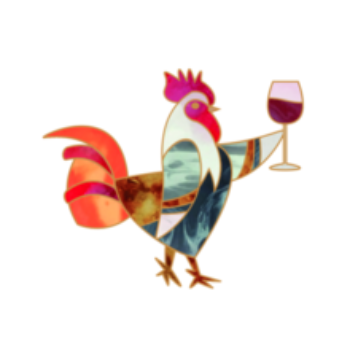 Bucolic Beaujolais is the southernmost appellation in Burgundy. Most of the production is red from Gamay. A modicum of white wine, mostly from Chardonnay and some Rosé is made. The reds tend to be light, with good acidity. They just might be the most food-versatile red wine on the planet.

The wine pecking order is Beaujolais, Beaujolais Villages and Cru (10 vineyards that can use the vineyard name on the label). Yet most casual US wine drinkers know it best for Beaujolais Nouveau - the fastest wine to market in the world. Dating back to the 19th Century, cunning marketers established a special day when, essentially undeveloped and unfinished, wines would be shipped worldwide (at least in modern times). The campaign continues to be very popular but, in truth, the wine does a poor job of representing the appellation.
Cru Beaujolais has been hot but most of the good ones need years of bottle age and prices are a bit ridiculous for some.

Our favorite producer, Domaine Girin makes only lowly, base Beaujolais. But don't let it's modest classification or price fool you. Thibaut Girin and his family make distinct, serious and delicious wines that can evolve nicely in the mid-term. Bill Nanson, of the esteemed Burgundy-Report, thinks they are likely the finest non-Cru Beaujolais and VDLT is the only US source for them.
We have two new offerings on per-arrival (expected in a few weeks). The 2017 Séduction easily lives up to its name. It can be a joyful, effortless drink, but if you choose to contemplate it, you discover the interesting yet sneaky complexity that seem to be the Girin trademark.

The 2016 L'Ancestrale (subtitled Fût de Chêne, meaning oak barrel) is Girin's only wine aged in wood (the used barrels courtesy of our mutual friends at Christophe Pichon). This gives it relatvely fuller body and richer taste. The excellent balance of the wines from this vintage make it particularly compelling and, I think remarkably beautiful.


Given the approachable pricing, I encourage you to buy as much as you can. After tasting, I expect you will want more and, well...like most VDLT wines production is small. If you snooze...you might lose.